What's new with lola
November 2010

lola granola


Reducing the collection.


Finishing bodywork on LOLA and starting painting in a couple of weeks!


Working on the Travelall.
Links


TheSamba.Com

Los Angeles
This is Lola Granola. A work in progress. VW Deluxe Microbus. It's really a blast to drive. Walk-through 23-window deluxe, sunroof, safari windows up front, ambulance fans, all the goodies.
I bought this bus about 5 years ago or so. It had a camper interior in it and it had an 80s shocking blue color scheme up front. I took the tint off the back windows, and found all the odds and ends to make it back into a passenger van. The kids really, really enjoyed the camper interior, but I just could not bear the thought of all those windows being covered up with panels. Off they went. Maybe I'll pick up a camper bus at some point! :)
March 29, 2006. Restoration Begins!
The bus was picked up early in the morning for a trip to Johnny's shop. We'd been waiting for this day for what seemed like an eternity, but you know how it is with buses. You can't just do a quick and dirty job. If you want anything worth it, you have to really do it all the way. Take all glass off, which means all rubber has to be changed, which means that you'll also want to rechrome all the stuff outside, which means that you'll probably want to do the inside as well, panels, seats, headliner, sunroof, just tons of stuff. An that adds up to a pretty penny.
By the way, did you notice the tires are different? The really cool super skinny 15" whitewalls just exploded one by one due to old age. One day I was driving and one just blew a huge hole on the side. That was fun. I put the spare on only to see it go two days later in the same manner. Then I looked closely at all the others and they were so cracked that it was a matter of time before they went to. I tried to find another set of the same but every 195/75-15 that I found was wider. Bummer.
April 30, 2006. Stripped!
Most of the stuff is stripped off already. The trim and glass is gone as are the seats, gauges, and sunroof. Bumpers, bottom trim, sunroof and other stuff still there. No, engine lid is not for sale. Yes, I know it's not the right year but I love that 3rd brake light. I'd not seen this interior in ages! The last time was when I removed the camper interior that was in there when I bought the bus!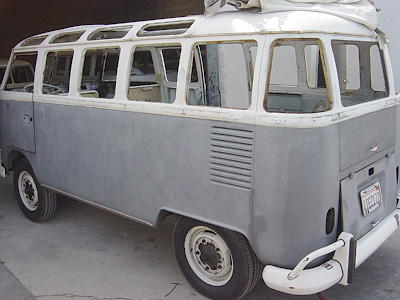 August 19, 2006. Uh... bondo.
We went to pick up some additional things to begin that refurbishing. I have all seats, panels, accessories, chrome, trim, etc. That alone should be pretty interesting to get going..l Yep. We found some bondo in the front. I'd never known this, but apparently there was some damage to the front end which was covered by the bumpers, paint, and more bondo. This will be taken down to the metal and a new bottom lip will be put on.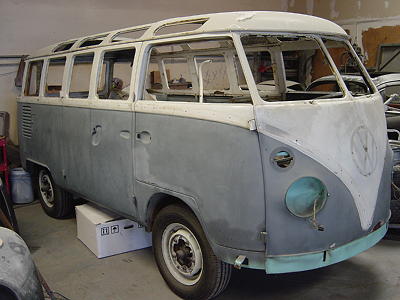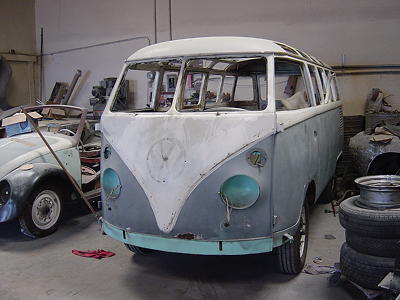 October 9, 2006. Snap. Not just a rusty lip.
So, the removal of paint from the front began in hopes of correcting what appeared to be a small rust spot, which had already revealed a generous amount of bondo underneath... and you know where this is going...
... of course. It turned out to be a lot more than just some bondo. It was full of holes from a previous repair of some sort. Here is a close up to give you an idea of where it's at now. To be continued I'm sure.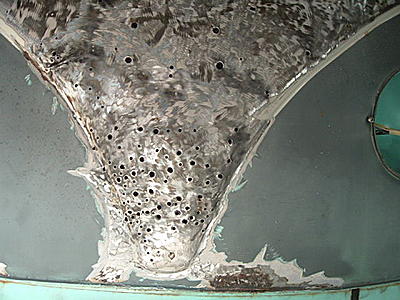 February 17, 2007. Found the skin needed!
Well, thanks to thesamba, I was finally able to locate a replacement skin which looks like it will work.
July 12 , 2007.
Back to work on the bus! The nose skin was cut out and the new one is ready to be grafted on. Still not sure of the color combination. The plan is to keep this one long term, so I want something that works for the family. I know - here are some things you'd never think of considering, I'd bet. So, I have The Beast (Travelall) in red with a white top, my daughter drives a mini cooper in red with a white top, I have a small truck, in, yes, red, with a white top, and this bus' right color combination would be, you guessed it, red with a white top. I think we're going with a green color scheme.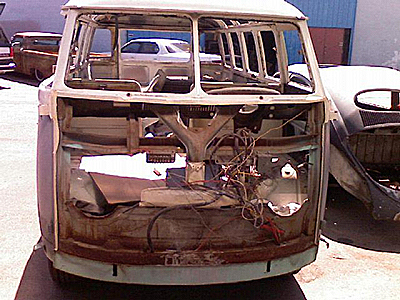 November 21, 2010.
I didn't realize it'd been so long since I updated the site. My bad. So, Johnny's been hard at work working on other projects and we had to take a short break on the bus but break's over! The bodywork is almost 100% done. Did a ton of grafting to right all the wrongs in the bus and it's looking incredible. We replaced the vents and rear wheel wells with the correct ones: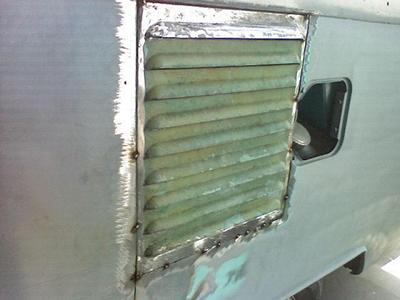 The nose is all done and the bodywork is looking amazing.
Sitting in awesome company.
Johnny working on the engine lid.