This bike was to be restored and another sidecar attached to it (or the one in the blue bike moved to this), but, as I'm sure I mentioned in other areas, I have too many bikes and projects and not enough space/money for all of them so, with a heavy heart, I must let this bike go and it's currently for sale.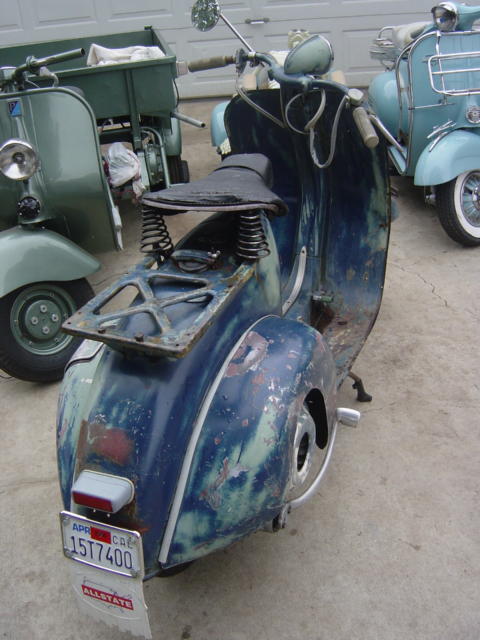 "The Grunge" is a stock Vespa Allstate 125 with the aluminum cowls, single saddle seat with the luggage rack up back. It's missing the aluminum floor strips as you can see in the pictures. The paint is weathered, but there is no rust on this bike. It's as solid as you're going to find.
The engine on this bike is just incredible. It's a French 1953 Vespa engine rebuilt by an absolute pro. It has this nifty Vespa logo on the case and it is as clean as you can possibly imagine. It's so good that I traded a scooter just for the engine. And it runs better than it looks! This thing will go for days without failing.
All the parts are there, but you will notice that the flywheel cover is from a newer bike (from a 1954 I think). The kickstarter is solid.
I really believe this engine is worth all these pictures and more!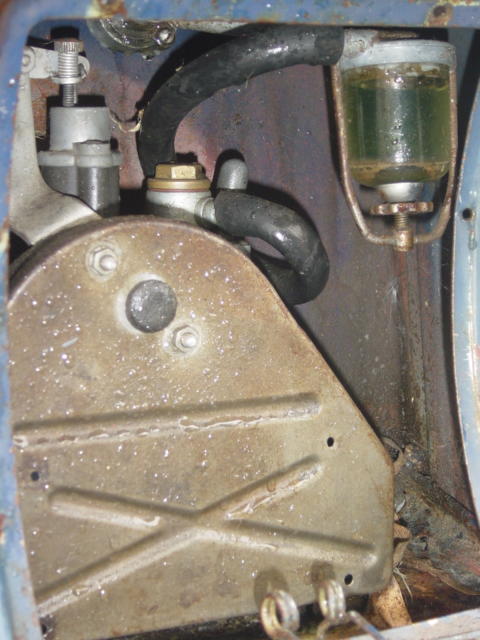 All the original parts are there including the airbox. No, it's not rust, I'd just washed the bike and that's just some residual water.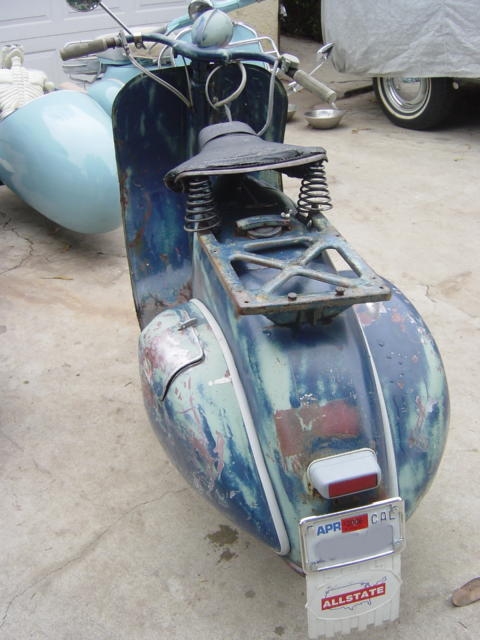 Current tags and registration mean all paperwork is in order and you could actually ride the bike today! The rear taillight was fully restored since it had some damage and I did not want it to get worse, but it's not a repro. It's the original one.

Not sure about you, but this is what I like about the 50s bikes. They are super curvy.

The 788.103 tag is there.
The front tire is actually an original Allstate Cruisaire tire. It'll hold air for a few weeks, but you may consider putting some newer tires on it if you're going to ride it a lot. The rear tire looks pretty vintage too, but it's not an Allstate tire.
I do have two more NOS Allstate tires that I may be persuaded to sell with the bike. I say may, because afterall, I do have another Allstate bike that they'd look great on too! But you may just catch me on a day of weakness...
My grunge!! Please don't let the pictures dissuade you from considering it. It's really a great bike and will not dissappoint. Let me know if you're interested. Offers accepted. I can answer any questions you may have at ape at vespaape dot com.