this section is under construction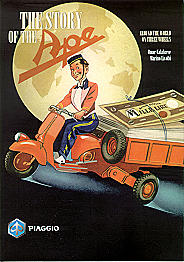 The Story of the Ape
Around the World on Three Wheels
1948-1998: 50th Anniversary of the Ape
---
A leading company with a history stretching back over 114 years, which has left its mark in production of all types of transport vehicle - land, sea and air - is often called on to celebrate some "anniversary" or other.
1996 saw the 50th anniversary of the Vespa. Today, it's the Ape's turn to remind the production world of its long and untiring presence in markets all over the world. The Ape, a well-known and widely distributed vehicle, for many people a working "partner," and a versatile tool for numerous light transport needs.
Piaggio has ben reviewing and has capitalised on its well-established roots in the history of technology and changing market situations for some time now. This recognition of having journeyed through many decades of change in economic, social and production termsis much more than - or at least not only - a dynamic reinterpretation.